A special session on Development Kits (DEVIKITS) will be held on Saturday June 16 during the Eurohaptics 2018 conference.
List of DEVKITS which will be presented during the special session:
ID: 1
Company: Ultrahaptics
DEVKIT name: Ultrahaptics STRATOS Explore Development Kit
Description: STRATOS Explore is a high-end development kit for advanced mid-air haptics applications and use cases. The platform's enhanced performance, fully embedded architecture and potential for large interaction zones dramatically widen the range of possible applications. Ultrahaptics' patented algorithms control ultrasound waves to create haptic sensations in mid-air. No controllers or wearables are needed: the "virtual touch" technology uses ultrasonic transducers to project sensations directly onto the user's hands. STRATOS is a flexible platform designed to accommodate larger array sizes, future developments such as rich haptic textures and individual finger targeting, next generation transducers and drivers, operating systems and tracking cameras.
Availability: Available now and in-stock
---
ID: 2
Company: Cambridge Mechatronics
DEVKIT name:
CAMBRIDGE MECHATRONICS HAPTIC DEVELOPMENT KIT
Description: Cambridge Mechatronics' (CML) development kit is an entry level kit that will allow academics to evaluate and experiment CML Shape Memory Alloy design for local haptic feedback.
It will include a portable hardware which will incorporate CML SMA design underneath a disc shaped surface and a PC user interface which will allow the configuration of 4 key parameters that will enable the customization of the end user experience.
Availability: CML demo kit interface is currently under development. CML plan is to loan the kit for a limited amount of time to selected academic partners
---
ID: 3
Company: Foldaway-haptics
DEVKIT name:
FOLDAWAY HAPTICS Delta & FOLDAWAY HAPTICS Pushbutton
Description: FOLDAWAY-Haptics development kit comprises: the control electronic board (bottom), sensing and actuation structure (middle), the parallel platform (top). The available parallel platforms are used to interact with the finger of the user
Two origami mechanism are available; Foldaway-Delta (a foldable version of the Delta mechanism) and Foldaway-Pushbutton (inspired by the Canfield joint).
By communicating via serial port, it is possible to read platform state and set platform forces (control loop up to 1 kHz).
Availability: end of 2018, application for requesting the kit is open
---
ID: 4
Company: Lofelt
DEVKIT name:
LOFELT EVK 3.1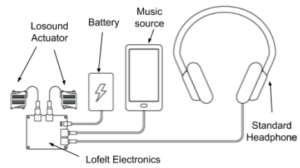 Description: Lofelt GmbH is a leader in providing real-time audio-to-haptic experiences. Lofelt's EVK allows you to quickly experience our unique DSP firmware which drives the precise,
wideband LoSound Actuators. It takes any standard stereo audio input – e.g. from games,
VR environments or music – and converts it to an optimised, realistic vibrotactile
experience. The EVK is designed to be used quickly out-of-the-box. Advanced prototyping
is also possible using the EVK's modular design – each PCB section can be broken out to
fit inside target prototype hardware (headsets, game/VR controllers, etc). The EVK can be
powered via USB or optional Lithium Polymer battery.
Availability: July/Aug 2018
---
ID: 5
Company: Boréas
DEVKIT name:
Boréas Technologies BOS1901-KIT
Description: The BOS1901-KIT enables users to rapidly build proof-of-concept applications around the Boréas BOS1901 Piezo Haptic Driver IC. The kit comes with two different commercial piezo actuators to enable out-of-the-box haptic experiments. The USB powered kit appears as an USB Audio device for computers, which allows rapid waveform prototyping using different software for haptic signal generation (e.g. Audacity®). The KIT allows the user to generate simple or complex arbitrary waveforms over a wide bandwidth to create rich haptic effects. The BOS1901-KIT includes two breakable miniature PCB to let the user easily use the BOS1901 IC within its own development platform.
Availability: The BOS1901-KIT is available in limited quantity until September 2018.
---
ID: 6
Company: HAP2U
DEVKIT name:
HAP2U XPLORE-TOUCH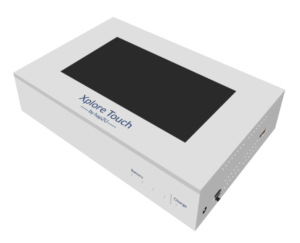 Description: Not just a development kit or a demonstration kit, the Xplore Touch is 2-in-1: a 7-inch screen with haptic feedback, available to companies and individuals who want to explore the possibilities offered by this disruptive technology. The Xplore Touch is equipped with a Haptic Creation Tool software application as well as low-energy Bluetooth to connect real HMI control interfaces with wireless interaction. With this combination of hardware and software, users are fully autonomous in developing and testing their applications. The Xplore Touch may be purchased at a reduced partnership price for research labs for 3000€.
Availability: now. For sale with a discount
---
ID: 7
Company: 3D Systems
DEVKIT name:
3D Systems OpenHaptics Unity Plugin
Description: The OpenHaptics Unity plugin enables users to seamlessly add Haptics to their Virtual world. This plugin integrates the Unity 3D components with the haptic world there by creating a wholesome experience for the user. It works in harmony with the Touch, Touch X devices and hopes to complete the void in the 3D and VR space by adding the perception and manipulation of objects using the sense of touch.
Availability: Currently, beta version of this is available for testing. This will be released in early Q3 2018.
---
ID: 8
Company: Tanvas
DEVKIT name: TANVAS
DEMONSTRATOR TABLET
Description: The TanvasTouch Demonstrator is a fully functional 9-inch Android tablet with an electrostatic variable friction touch display. With it, you can feel textures, objects, and actions on the screen. The effect is localized and low-latency, resulting in a sense of realism unmatched by any existing touchscreen.
This is a prototype device meant to demonstrate the core capabilities of the TanvasTouch technology, and to allow users to experiment with a new type of display and way of interacting with computers. We are looking for research partners who are as excited as we are to explore the future of touchscreens.